London-based Entrepreneur Sonma Ukaobi Ties The Knot With Heartthrob Sorin
UK creative model, registered nurse and influencer, Sonma Ukaobi, gets married to her lover, Sorin, in an interracial marriage wearing a huge pink wedding dress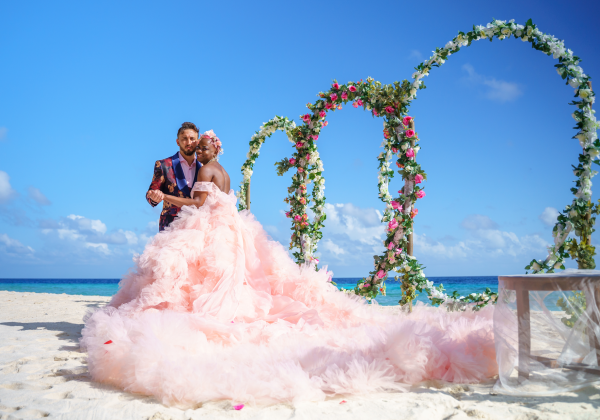 Sonma Ukaobi seems relentless in pushing the boundaries as the registered nurse and founder of Tolicious, a pink body confidence brand for women, ties the knot with her lover in a ceremony held on the 27th of May in the Maldives. The interracial marriage saw the unification of Sonma of Nigerian origin and her husband, Sorin, who is of Moldovan origin, with the bride wearing an unusual pink wedding dress that caught the attention of the world.
The self-acclaimed first human Barbie known for sharing daily tips on social media to help people live their best life also launched Tolicious, a wellness brand to help detox and cleanse, and get a flat tummy, on her wedding day. Sonma and Sorin met on the dating website, Bumble, and got engaged after one year and 2 months of dating. The beach-themed wedding happened with just the couple who eloped to profess their love to each other and hoped to do a small family ceremony upon their return to London. The bride wanted a different thing from the average traditional white dress and she undoubtedly achieved something exceptional for her wedding. She searched around the world for her envisioned pink dress and found it in Singapore. The pastel pink dress was designed by a Singapore bridal designer, weighing about 25 pounds, off shoulder, with a ruffled tiered rose flower skirt train of 150cm in length.
Sonma reiterated her pursuit of motivating people to live their best life with the launch of the Tolicious Brand, inspired by a gap in women wanting to reshape their body on their own terms coupled with her getting ready to marry the love of her life and worried about not fitting into her wedding dress. Tolicious will offer beauty, fitness, and wellness products, including teas, flat tummy gummies, waist trainers, meal and fitness plans as well as Yoni feminine cleansing tea.
Sonma Ukaobi brings her years of experience as a registered nurse in the UK practicing on different continents and treating thousands of patients to bear in creating the brand. She started trials on different 100 percent organic ingredients to help women detox and cleanse their bodies, get rid of unhealthy tummy fat, and yoni steam tea to tune them with their feminine energy and rejuvenate.
For further information about the Tolicious Brand and the products offered, visit – www.tolicious.com. The campaign for a happy, healthy body continues across social media, as Sonma shares daily good life tips @toliciousbrand across all platforms.
Tiktok – https://vm.tiktok.com/ZMN162QQw/
Media Contact
Company Name: Tolicious Brand
Contact Person: Sonma Ukaobi
Email: Send Email
Country: United Kingdom
Website: https://tolicious.com/