How To Choose OPGW Cable | GL Technology
Reasonably choose the outer sheath of the optical fiber. There are 3 kinds of pipes for optical fiber outer sheath: plastic pipe organic synthetic material, aluminum pipe, steel pipe. Plastic pipes are cheap. In order to meet the UV protection requirements of the plastic pipe sheath, at least two layers of armor should be used. The plastic tube OPGW can withstand the short-term temperature rise caused by short-circuit current <180℃; the aluminum tube cost is low. Due to the small impedance of aluminum, it can increase the ability of the OPGW armor to withstand short-circuit current. Aluminum tube OPGW can withstand short-term temperature rise caused by short-circuit current
When replacing the old line ground wire with an OPGW cable, an OPGW with the same mechanical and electrical characteristics as the original overhead ground wire must be selected. That is, the parameters of OPGW's outer diameter, weight per unit length, ultimate tensile force, elastic modulus, linear expansion coefficient, short-circuit current and other parameters are close to the existing ground wire parameters, so that the existing tower head can not be changed, and the amount of reconstruction works can be reduced. It can also ensure the safe distance between the OPGW and the existing phase conductors, and ensure the safe operation of the power system.
The installation and construction of OPGW cable is similar to that of ADSS cable, and the hardware used is almost the same, but the hanging point is different. The OPGW cable should be installed in the position of the overhead ground wire. The position of the intermediate joint of the optical cable line must fall on the tension tower through the distribution plate.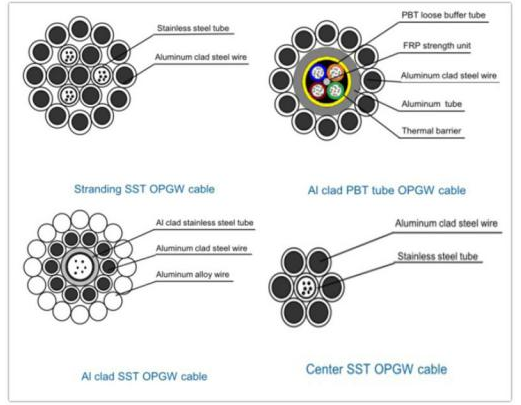 In the selection and application of the above types of optical cables, it is also necessary to pay attention to the following points: choose a loose-sleeve structure optical cable, and do not use a tight-sleeve structure optical cable. Because the fiber can have a certain excess length in the loose tube, the control range is between 0.0% and 1.0%, and the typical value is 0.5% to 0.7%. When the optical cable is stretched during construction or under the action of gravity and wind, as long as the stretched length of the optical cable is within the range of the excess length, the optical fiber has the ability to strain and not bear the tension, thus ensuring that the transmission quality of the optical fiber is not affected by the tension. external influence.
1. Using advanced stainless steel tube production technology, the tube is filled with water blocking compounds to effectively protect the optical fiber;
2. By optimizing the design of the optical fiber excess length in the stainless steel tube and the twisting pitch of the cable core, the optical fiber in the optical cable can obtain the secondary excess length to ensure that the optical fiber is not stressed when the OPGW cable is subjected to the maximum operating tension;
3. The structure is compact, which not only reduces the ice load and wind load, but also ensures that the heat generated in the case of short circuit is easy to dissipate;
4. The outer diameter and tensile unit weight ratio of the OPGW cable manufactured by GL are similar to the common ground wire specifications, and can be used to directly replace the original ground wire without changing the line or replacing the tower;
5. Since it is basically the same as the traditional overhead ground wire, the erection of the OPGW cable is very convenient;
Media Contact
Company Name: Hunan GL Technology Co.,Ltd.
Contact Person: Media Relations
Email: Send Email
Phone: 0731-89722704
Country: China
Website: https://www.gl-fiber.com/