Belleva Guest House Blackpool. A True Story of Hope and Courage against All Odds.
Belleva is an Adult Only Guest House located in Blackpool, United Kingdom, central to all local attractions. Fully renovated using local craftsmen, materials, and artefact. The Guest House being a haven for community fundraising and awareness, eclectic décor and inhouse crafting. A house with a difference. Offering fresh and dynamic ideas to the hospitality sector in general.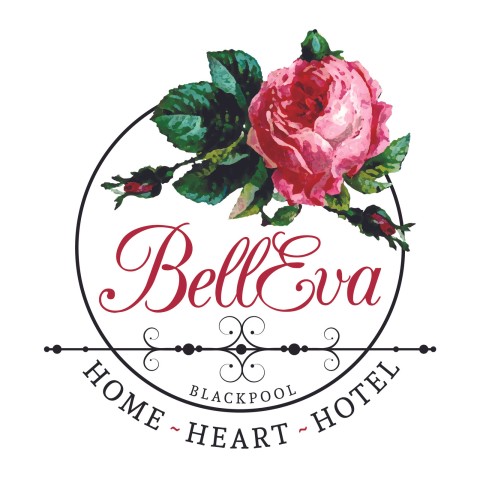 Belleva finally opened her doors of August 2021, proceeding unforeseen delays as a direct result of the global pandemic. With resources scarce, Tiffany Belle Harper (the owner and designer in chief) turned to charity and salvaged outlets to create a unique, young, and vibrant space using her infamous and often anonymous design skills, with a twist.
Belleva Guest House now boasts its own craft bar, where Tiffany sells an exclusive range of ecofriendly, cruelty free products. To include the hugely popular South Shore Soap Company trade label. Her range consists of parfum and essential oil soy wax melts, fully licensed hand poured soaps and bath fizz plus her most recent creation, candles. This all came about during lockdown when time spent during lockdown, in Blackpool, inspired Tiffany to find new hobbies, which have since transpired as a gift shop at Belleva, exclusive to guests and friends.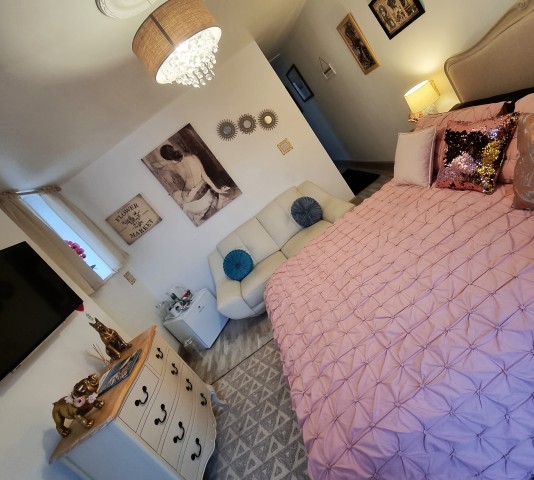 Belleva House, used to host 11 guest rooms and following renovation have been reduced to 7 suites and bedrooms. Something for most budgets, from a small double en-suite bedroom, with a disco shower. To a huge honeymoon suite with a massive relaxation tub. The Tiffany Suite once being 3 bedrooms is now one spacious, luxury area.
Also, at Belleva is the James Suite (named after her youngest son (age 33) who played an important role in the workmanship, design and theory of the hotel design and layout. James having a degree in surveying and himself being a skilled craftsman, with his own property portfolio based in Leeds, West Yorkshire.
A mother and son team who have worked together on numerous projects. To include Tiffany's previous main career, in which she designed, sold, and hired out her own range of mannequins. Also, body forms, display heads and tailors' dummies. Unfortunately, due to being victim to a serious attack towards the end of 2009 that almost cost Tiffany her life. Her career and life in Warwickshire dissolved where she moved to Leeds to be near her son and rebuild her life from nothing.
Video Link: https://www.youtube.com/embed/LqPXZFJI3X8
After a tough and emotional struggle to get back on her feet, years later, Tiffany went on to create Belleva after selling her renovated terrace house in Leeds with the profit. Moving to Blackpool of June 2018, Tiffany took on a rental bed and breakfast until June 2021 where she managed to escape the leasehold tenancy and put all of her efforts into her own new brand, 'Belleva'. The Guest house formerly known as Sovereign House, had not traded since 2014 and was acquired by Tiffany, before going to auction. Belleva finally ready to open of Summer 2021 (a year behind launch) Tiffany was called to Warwickshire to be near her Father, delaying the process. Her Father died in her arms on Father's Day of June 20tt 2021.
Returning to Blackpool, Belleva finally opened her doors during August which would have been her father's 86th Birthday. A whirlwind of events and with a lack of funds. Tiffany and her housekeeper Danielle Robison ventured once more into the local community sourcing the finishing touches for the house from charity shops and upcycle plants.
As well as mannequins, wax melts, and quirky décor, Belleva boasts a wall mural by local and highly accomplished graffiti artist 'Christian Fenn', otherwise known as Seca One. The wall art is a huge lotus flower and has captured the attention of many guests and locals.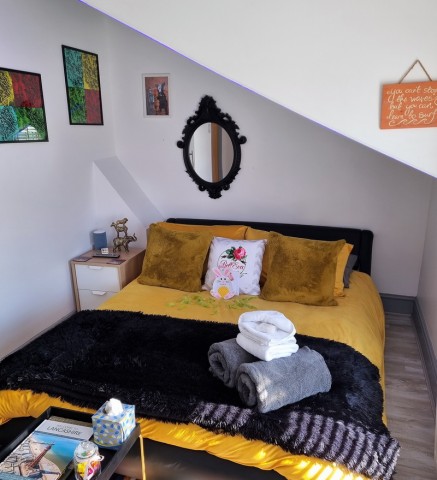 The hallway is adorned with prints given to Tiffany by crafty friends. Noticing the lampshades on the ground floor communal areas are a variation of hats and on the first-floor landing there is even a small upcycle bin unit section together with the opportunity for guests to donate their toiletries where the containers are sanitized for reuse.
Each of the 7 bedrooms or suites at Belleva (based on St Chads Road) Blackpool, boast an Alexa, flat screen TV. Refreshments and treats. Bathrobes, towels, and luxury bed linen. The suites have bathtubs ranging from a relaxation bath, a jacuzzi or an L Shaped bath. Two of the suites have double vanity units and bathroom friendly televisions. All bathrooms benefit from light sensory mirrors with shower points and low flush toilets plus water saving shower systems.
Danielle Robinson is responsible for keeping the bedrooms clean and so far the team have gone on to receive rave reviews for hosting and cleanliness.
Tiffany telling us their target audience is for those who seek something different in a calming, peaceful environment, set amidst the bustling town of Blackpool.
With a sustainable outlook, Belleva encourages guests to use local food and drink outlets whilst providing a room only Guest House. Belleva are appealing to local artists to get in touch to exhibit their work.
Belleva have resident mannequins that have been involved with community causes, to include Fylde Coast Women's Aid and locals who wish to visit Belleva to dress a mannequin using their own textiles and design skills. Belleva is a house with a difference, which constantly evolves with fresh new ideas and opportunities not to be missed.
To learn more and see pictures of the hotel please visit https://www.bellevahouse.com
Media Contact
Company Name: Belleva
Contact Person: Tiffany Harper
Email: Send Email
Phone: 01253 376776
Country: United Kingdom
Website: https://www.bellevahouse.com