History Indicates That KULR Technology Stock Is About To Surge; Q1 Results On Monday Could Cause A Repeat ($KULR)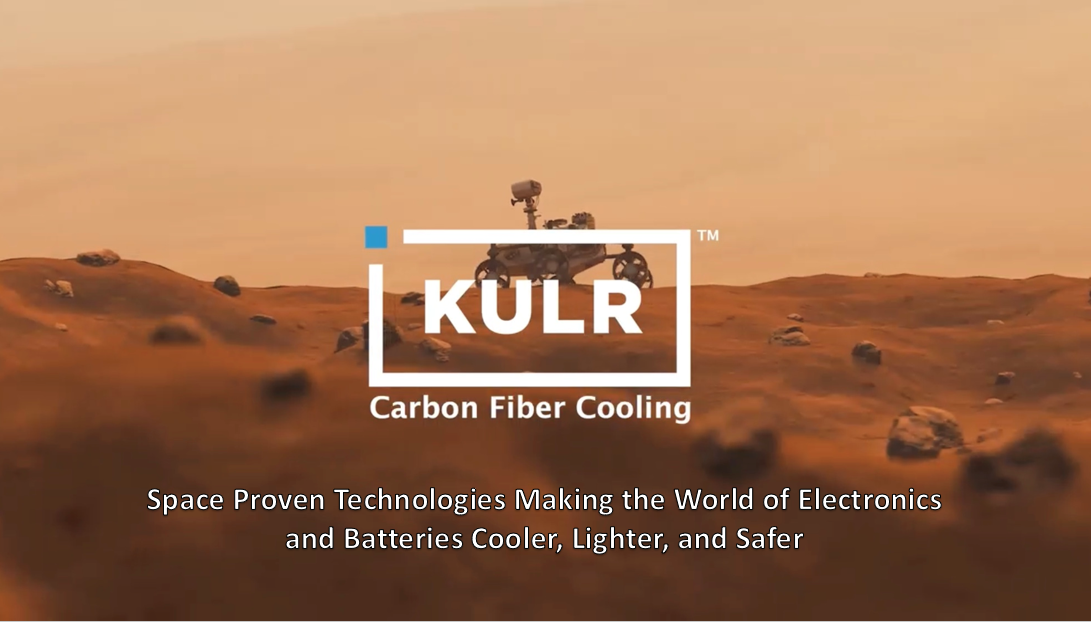 KULR Technology Group's (NYSE-AMER: KULR, $KULR) share price isn't accurately portraying a company in hypergrowth. In fact, current levels show a significant disconnect from a company fresh off its best year in history with a considerable revenue-generating tailwind at its back. Moreover, growth through Q4, a substantial increase in team power, and new contracts will likely make its best-ever 2021 performance a precursor of better things to come.
There are reasons to be optimistic. The biggest is that KULR is leading the charge to provide state-of-the-art battery-safety technology to billion-dollar industries that rely on lithium-ion power. And that puts into play revenue-generating opportunities from manufacturers of electronic vehicles, consumer products, the space industry, and consumer products markets.
Better still, with the pace at which "green" energy initiatives are spreading globally, today's roughly half-trillion-dollar market opportunity is likely to become a trillion-dollar one before the decade's end. That would bode exceptionally well for KULR.
Guiding For A 2022 Surge
KULR is already expected to benefit and has a balance sheet capable of accelerating growth into the remainder of 2022. Announcing a nearly three-fold increase to its workforce, including executive-level talent, supports that presumption and positions KULR ideally to meet the lithium-ion battery's surging demand and safety needs that power millions, even billions of mainstream products. But while the energy provided from these small but powerful products is fully appreciated, they lack one vital component- inherent battery safety integrations. And that's where KULR expects to find a potentially massive payday.
Don't underestimate the magnitude of the market proposition. In-play is the entire and massive battery-powered marketplace that lacks even basic protections against battery-caused fire and explosion. A screw-down cover or "slide in place" housing over a battery doesn't provide the needed protection. The more frequent publishing of videos showing exploding cars, phones, hoverboards, and industrial equipment proves that point.
And as lithium-ion power becomes more mainstream, adding to its already enormous use, KULR's market opportunities will grow alongside. Thus, with the risks of fire and explosion only expected to increase, especially as these power capsules get more densely packed, KULR is better than in the right markets at the right time; they also have the technology needed to meet the massive and unmet need. That's the real driver of the investment proposition.
And the biggest brands in the world are taking notice. KULR has already signed multi-million dollar contracts and is advancing development deals with industry behemoths, including NASA, Lockheed Martin (NYSE: LMT, $LMT), Johnson Controls, Leidos (NYSE: LDOS), and the Andretti United E Team racing group. No other known company can boast a similar Who's Who client list regarding battery-safety applications.
Those mentioned above are part of the shortlist. KULR has several other deals driving revenues significantly higher, and investors should expect to see the positive results from those relationships, likely record-setting, when the company posts its Q1 report next week.
Battery-Safety Technology Serving A Massive Market
Results are expected to be good. And with lithium-ion battery use more prevalent, guidance is expected to be bullish as well. Remember, beyond the low-hanging applications of the company's battery safety technology to consumer goods, KULR is equally targeting opportunities from government and defense agencies that need what KULR is selling. Even the United States Coast Guard may contribute to its revenue-generating mission.
The U.S.C.G. recently announced new requirements that place more stringent safety provisions on marine lithium-ion battery applications, including cargo and fishing vessels to cruise ships and pleasure boats. The excellent news from KULR's perspective, and also from an investor's, is that they may already be positioned to capitalize on the opportunity with its KULR-Tech Safe Case technology, an IP-protected asset that protects against overheating, fire, and explosion caused by thermal runaway. In fact, the KULR Safe-Case could be the first product on the market to meet the new Coast Guard safety requirements, giving it a first-to-market position that could help deliver millions in new revenues.
As noted, KULR's interests are broad. While positioned to do well with maritime applications, its contracts with industry giants like NASA and Lockheed Martin may also drive front-line status by helping establish a universal protocol for lithium-ion battery safety. And that would include more than providing thermal-runaway management solutions. Other revenue-generating opportunities inherent to monitoring, transporting, recycling, and disposing of these batteries are also needed. To that end, KULR is again doing the right things at the right time.
Expanding Sector Needs For Embedded Battery Safety
KULR recently announced a multi-million-dollar contract for its PPR solution suite to be integrated with Volta Energy Products. This company, owned by Viridi Parente, Inc., will utilize KULR's battery safety solutions for stationary and mobile lithium-ion battery power systems. The initial value of the contract was $1.6 million, which constitutes more than 50% of KULR's 2021 revenues. But there's more to like.
The company's recent acquisition of Centropy AB's innovative technologies also adds considerable value, both intrinsically and inherently. The thermal management technologies acquired through this deal can be seamlessly integrated into their existing portfolio of technologies and services for meeting demand in industries like artificial intelligence, cloud computing, and cryptocurrency mining – each presenting significant new market opportunities.
Those deals add to a recent contract with Lockheed Martin worth more than half a million dollars to test and potentially integrate KULR's PPR battery solutions on a substantial scale. If so, it's a working relationship likely to send revenues exponentially higher.
Battery Transportation Market Is Lucrative Too
While deals with Volta and Lockheed Martin bode well for KULR's PPR-related revenue-generating future, its battery transportation solutions are also getting strong attention. An agreement with Retriev, the largest lithium-ion battery recycler in North America, puts that market into play today.
And beyond working with the largest lithium-ion battery recycler on the continent, KULR is also participating in the U.S. Department of Energy's lithium-ion battery lifecycle initiative with Clarios to improve manufacturing processes and reusability of lithium-ion battery technology. The interest from the DoE validates the importance of battery-safety technology to private interests and national ones.
The totality of addressable markets could be why analysts are bullish on KULR stock.
Analyst At Litchfield Hills Expect Appreciable Upside
Analysts at Litchfield Hills recently updated coverage and reiterated its $7.00 price target. Like investors, they also appear to recognize a substantial disconnect from KULR's intrinsic value compared with its share price. But, they do model for change, noting in its report an expected surge in 2022 revenues to support its bullish thesis. Those revenues should start to come online in Q1, which could be the catalyst to ignite a well-deserved rally.
By the way, Litchfield's lofty price target may be spot-on. And considering KULR's record-setting growth and a cash-rich balance sheet, the move toward their price target could begin sooner than later. Remember, contracts in Q1 alone represent bringing the company more than half of its total 2021 revenues. Factoring in what's expected in Q2 and the remainder of the year certainly supports a case for significantly higher prices.
KULR itself provides reasons to be bullish. Last quarter revenues surged by 267% YOY, and total income almost quadrupled between 2020 and 2021. In addition to its revenue growth, KULR finished 2021 with a balance sheet capable of accelerating strategic initiatives, with $14.9 million in cash to expedite research and development, fund productions, and help bring more innovative battery safety solutions and technologies to the markets.
Keep this in mind, too. KULR must be expecting a substantial increase in business. Otherwise, it likely wouldn't have made the significant investment in its workforce, adding staff across all departments. Investors theorize it's a proactive move that provides clues to the future. And those clues lead to presumed substantial growth.
Getting in Front of a Breakout 2022
Here's the best news about the KULR investment proposition. Investors won't need to wait long to see what's happening at KULR. The company is scheduled to release its Q1 earnings next week, Monday, May 16th, with a conference call to discuss at 4:30pm EST. With momentum already at its back, more records are expected.
Remember, KULR entered the quarter coming off its best year ever. Despite macro events, the markets they serve shouldn't have impacted sales. While margins may get pinched in the inflationary environment, it may be wiser to focus on revenue growth and guidance for the next few quarters. In other words, short-term effects shouldn't replace a long-term investment consideration. Moreover, with KULR the leader in the space and, in some cases, the only provider, passing on higher costs may not be difficult.
Here's the bottom line ahead of earnings. With KULR in the best operating position in its history, revenue-generating momentum at its back, new contracts in play, and a beefed-up workforce to meet an assumed spike in demand, not taking advantage of an undervalued KULR share price may be an opportunity missed.
In fact, if KULR hits the numbers expected, its stock could be off to the races.
Disclaimers: Shore Thing Media, LLC. (STM, Llc.) is responsible for the production and distribution of this content. STM, Llc. is not operated by a licensed broker, a dealer, or a registered investment adviser. It should be expressly understood that under no circumstances does any information published herein represent a recommendation to buy or sell a security. Our reports/releases are a commercial advertisement and are for general information purposes ONLY. We are engaged in the business of marketing and advertising companies for monetary compensation. Never invest in any stock featured on our site or emails unless you can afford to lose your entire investment. The information made available by STM, Llc. is not intended to be, nor does it constitute, investment advice or recommendations. The contributors may buy and sell securities before and after any particular article, report and publication. In no event shall STM, Llc. be liable to any member, guest or third party for any damages of any kind arising out of the use of any content or other material published or made available by STM, Llc., including, without limitation, any investment losses, lost profits, lost opportunity, special, incidental, indirect, consequential or punitive damages. Past performance is a poor indicator of future performance. The information in this video, article, and in its related newsletters, is not intended to be, nor does it constitute, investment advice or recommendations. STM, Llc. strongly urges you conduct a complete and independent investigation of the respective companies and consideration of all pertinent risks. Readers are advised to review SEC periodic reports: Forms 10-Q, 10K, Form 8-K, insider reports, Forms 3, 4, 5 Schedule 13D. For some content, STM, Llc., its authors, contributors, or its agents, may be compensated for preparing research, video graphics, and editorial content. STM, LLC has been compensated up to ten-thousand-dollars cash via wire transfer by a third party to produce and syndicate content for KULR Technology Group. Inc. for a period of one month. As part of that content, readers, subscribers, and website viewers, are expected to read the full disclaimers and financial disclosures statement that can be found on our website.
The Private Securities Litigation Reform Act of 1995 provides investors a safe harbor in regard to forward-looking statements. Any statements that express or involve discussions with respect to predictions, expectations, beliefs, plans, projections, objectives, goals, assumptions or future events or performance are not statements of historical fact may be forward looking statements. Forward looking statements are based on expectations, estimates, and projections at the time the statements are made that involve a number of risks and uncertainties which could cause actual results or events to differ materially from those presently anticipated. Forward looking statements in this action may be identified through use of words such as projects, foresee, expects, will, anticipates, estimates, believes, understands, or that by statements indicating certain actions & quote; may, could, or might occur. Understand there is no guarantee past performance will be indicative of future results. Investing in micro-cap and growth securities is highly speculative and carries an extremely high degree of risk. It is possible that an investors investment may be lost or impaired due to the speculative nature of the companies profiled.
Media Contact
Company Name: STM, LLC.
Contact Person: Michael Thomas
Email: [email protected]
Phone: 973-820-3748
Country: United States
Website: https://www.kulrtechnology.com/